In today's society, almost everyone is on, or knows someone who is on antidepressants, but these medications only treat the symptoms of depression – not necessarily the causes.
Diet, exercise, positivity, and light can all play a role in mood and energy levels. But sometimes more is needed.
Like most recurring problems, the Bulletproof approach is to try what should work, if that works, great. If no, then do what "shouldn't" work. Drugs are supposed to be some sort of cure all for depression and mood disorders, but most of them don't work very well. Here's what you can do to help prevent and fight depression without turning to medication:
1. Practice pleasure. Use meditation or Heart Math training to learn to "turn on" a state of happiness that can replace sadness. At a minimum, take some time out of your day to focus on everything you love in life. Get therapy if these things don't help.
2. Be in nature, or at least pretend to be. Humans evolved over millions of years living outside. Only in the last several thousand have we migrated into the sheet rock caves that we now call offices. Bright light therapy has been shown in several trials to helps alleviate depressive symptoms. If you can, install some bright lights inside your workspace. Being outside is even better, because you'll also increase your vitamin D levels naturally. At least add a few plants to your work space.
3. Exercise. The right kind of exercise can do wonders for your body and mind. Not only will it get you leaner, stronger, and help you live longer, it also improves your mood. Use a plan like the Bulletproof Body or Body by Science to strengthen your mental and physical abilities.
4. Eat the Bulletproof Diet. Avoiding toxins and getting enough – but not too much – tryptophan will help your mood. The Bulletproof Diet also optimizes your omega-3 to omega-6 fatty acid ratios, which improves your brain performance and overall health.
Using a combination of high doses of fun, bright lights or nature exposure, the right kind of exercise, and the Bulletproof Diet, you can help fight mild depression and optimize your mental performance.
How do you take care of yourself when you are down? What has worked for you?
Believe it or not, the best antidepressants on Earth don't come from a pill bottle. From getting more sleep to taking up a hobby, making these simple changes in your life can help boost your mood and prevent depression.
Finally,Apply this: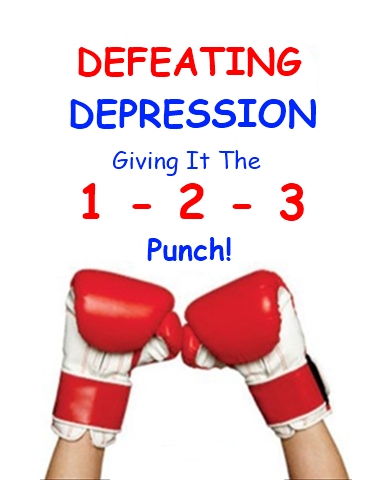 In order to overcome depression, you have to take care of yourself. This includes following a healthy lifestyle, learning to manage stress, setting limits on what you're able to do, adopting healthy habits, and scheduling fun activities into your day.
Aim for eight hours of sleep. Depression typically involves sleep problems. Whether you're sleeping too little or too much, your mood suffers. Get on a better sleep schedule by learning healthy sleep habits.
Expose yourself to a little sunlight every day. Lack of sunlight can make depression worse. Make sure you're getting enough. Take a short walk outdoors, have your coffee outside, enjoy an al fresco meal, people-watch on a park bench, or sit out in the garden. Aim for at least 15 minutes of sunlight a day to boost your mood. If you live somewhere with little winter sunshine, try using a light therapy box.
Keep stress in check. Not only does stress prolong and worsen depression, but it can also trigger it. Figure out all the things in your life that stress you out. Examples include: work overload, unsupportive relationships, taking on too much, or health problems. Once you've identified your stressors, you can make a plan to avoid them or minimize their impact.
Practice relaxation techniques. A daily relaxation practice can help relieve symptoms of depression, reduce stress, and boost feelings of joy and well-being. Try yoga, deep breathing, progressive muscle relaxation, or meditation.
Care for a pet. While nothing can replace the human connection, pets can bring joy and companionship into your life and help you feel less isolated. Caring for a pet can also get you outside of yourself and give you a sense of being needed—both powerful antidotes to depression.
Do things you enjoy (or used to)
While you can't force yourself to have fun or experience pleasure, you can choose to do things that you used to enjoy. Pick up a former hobby or a sport you used to like. Express yourself creatively through music, art, or writing. Go out with friends. Take a day trip to a museum, the mountains, or the ballpark.
Push yourself to do things, even when you don't feel like it. You might be surprised at how much better you feel once you're out in the world. Even if your depression doesn't lift immediately, you'll gradually feel more upbeat and energetic as you make time for fun activities.
Depression self-help tip 4: Get regular exercise
When you're depressed, exercising may be the last thing you feel like doing. But exercise is a powerful tool for dealing with depression. In fact, studies show that regular exercise can be as effective as antidepressant medication at increasing energy levels and decreasing feelings of fatigue.
Scientists haven't figured out exactly why exercise is such a potent antidepressant, but evidence suggests that physical activity triggers new cell growth in the brain, increases mood-enhancing neurotransmitters and endorphins, reduces stress, and relieves muscle tension—all things that can have a positive effect on depression.
To gain the most benefits, aim for 30 minutes of exercise per day. You can start small, though, as short 10-minute bursts of activity can have a positive effect on your mood. Here are a few easy ways to get moving:
Take the stairs rather than the elevator

Park your car in the farthest spot in the lot

Take your dog for a walk

Pair up with an exercise partner

Walk while you're talking on the phone
As a next step, try incorporating walks or some other enjoyable, easy form of exercise into your daily routine. The key is to pick an activity you enjoy, so you're more likely to keep up with it.
Depression self-help tip 5: Eat a healthy, mood-boosting diet
What you eat has a direct impact on the way you feel. Aim for a balanced diet of low-fat protein, complex carbohydrates, fruits and vegetables. Reduce your intake of foods that can adversely affect your brain and mood, such as caffeine, alcohol, trans fats, saturated fats, and foods with high levels of chemical preservatives or hormones (such as certain meats).
Don't skip meals. Going too long between meals can make you feel irritable and tired, so aim to eat something at least every three to four hours.
Minimize sugar and refined carbs. You may crave sugary snacks, baked goods, or comfort foods such as pasta or French fries, but these "feel-good" foods quickly lead to a crash in mood and energy.
Focus on complex carbohydrates. Foods such as baked potatoes, whole-wheat pasta, oatmeal, and whole grain breads can boost serotonin levels without a crash.
Boost your B vitamins. Deficiencies in B vitamins such as folic acid and B-12 can trigger depression. To get more, take a B-complex vitamin supplement or eat more citrus fruit, leafy greens, beans, chicken, and eggs.
Try super-foods rich in nutrients that can boost mood, such as bananas (magnesium to decrease anxiety, vitamin B6 to promote alertness, tryptophan to boost feel-good serotonin levels), brown rice (serotonin, thiamine to support sociability), and spinach (magnesium, folate to reduce agitation and improve sleep).
Consider taking a chromium supplement. Some depression studies show that chromium picolinate reduces carbohydrate cravings, eases mood swings, and boosts energy. Supplementing with chromium picolinate is especially effective for people who tend to overeat and oversleep when depressed.
Depression self-help tip 6: Know when to get additional help
If you find your depression getting worse and worse, seek professional help. Needing additional help doesn't mean you're weak. Sometimes the negative thinking in depression can make you feel like you're a lost cause, but depression can be treated and you can feel better!
Don't forget about these self-help tips, though. Even if you're receiving professional help, these tips can be part of your treatment plan, speeding your recovery and preventing depression from returning.
More help for dealing with depression
Types of depression

Suicide
Resources and references
Depression self-help tips and tools
Back from the Bluez – Self-help modules for coping with and recovering from depression. Features advice on increasing activity levels, thinking more positively, and maintaining treatment progress. (The Government of Western Australia Department of Health)
A Case of Catch 22 – Learn how to get around the Catch-22 of depression, in which the things a person needs to do to get well are the very things the illness makes it difficult to do. (Psychology Today)
FacingUs – Find free online tools designed to help you track your moods, monitor depression symptoms, and create a personalized wellness plan. (Depression and Bipolar Support Alliance)
Depression Doing the Thinking – Learn about common cognitive distortions and how to change them. (Psychology Today)
Healthy lifestyle habits and depression
Exercise and Depression – Learn about research that shows that regular exercise can improve the symptoms of mild to moderate depression. (Harvard Health Publications)
Fighting Depression and Improving Cognition with Omega-3 Fatty Acids – Explore the link between Omega-3s and depression, and the implications for treatment. (LE Magazine)
Bedfellows: Insomnia and Depression – Discover the connection between sleep and mood, including how lack of sleep can trigger depression. (Psychology Today)
Healthy eating and depression (PDF) – Learn how to change your diet to improve your mood and relieve symptoms of depression. (Mental Health Foundation)
Support groups for depression
Find Support – To locate a depression support group
in your area. (Depression and Bipolar Alliance)