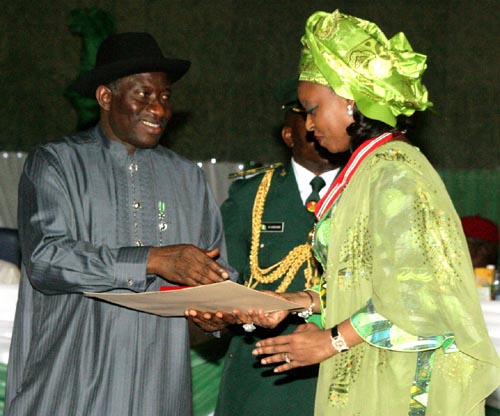 As the outgoing Nigerian President Goodluck Jonathan prepares to handover power to the newly elected President, General Muhammadu Buhari on May 29, observers have decided to feed you with this news as they've listed here, members of Jonathan's cabinet who actually failed to deliver, which later rubbed him of winning the election as he lost the goodwill of Nigerians.see details after the cut
1. Namadi Sambo, Vice President: Despite over $16billion investment in power sector alone, he failed abysmally as the boss of the National Economic Council and in the management of the privatization of government-owned companies.
2. Anyim Pius Anyim, Secretary to the Government of the Federation: He is alleged to have influenced Jonathan's administration to be perceived as a sectional government which favoured only South-east and South-south in political appointments.
3. Okonjo-Iweala, Minister of finance and coordinating minister of the economy: Believed to have been over-priced or over-rated for the job. The economy collapsed under her watch. N200billion fuel subsidy scandal; $60billion debt; $20 billion or $1 billion oil cash mismanagement; borrowing of N473billion to pay salaries; the depletion of Excess Crude Account to a paltry $2billion and arbitrary granting of waivers.
4. Bala Mohammed, Minister of Federal Capital Territory: Adjudged the worst Minister of Federal Capital Territory since 1975 due to decrepit infrastructure in the FCT under his watch.
5. Diezani Alison-Madueke, Minister of petroleum: Under her watch, the oil sectors stank to such extent that an external auditing firm, PWC was commissioned by the presidency to look into the account of the NNPC. Jonathan's government was judged by the rot in the oil sector.
6. Musiliu Obanikoro, the ex - Minister of Defence: Believed to be one of the reasons Jonathan lost the South-west owing to his use of the Army and other security agencies to "rig" the Ekiti state election and his gangster-style 'Operation Conquer South-West' for Jonathan.
7. Jelili Adesiyan, Minister of Police Affairs: Attracted more controversy to Jonathan administration with the use of policemen to intimidate political opponents.
8. Abba Moro, Minister of interior: The Nigerian Immigration Service scandal in which 15 graduates died and the multiple jail-breaks in the country all added up to rub-off negatively on President Jonathan.
9. Mike Onolememen, Minister of Works: Despite perceived success in road construction nation-wide, the minister scored a little below 50 per cent having completed only 62 out of the 133 road construction projects awarded by the Jonathan administration.
10. Chinedu Nebo, Minister of Power: Believed to lack the capacity to manage the sector like his predecessor, Prof. Barth Nnaji. The epileptic power supply nationwide worked against Jonathan during the poll.
11. Aminu Wali, Minister of Foreign Affairs: Jonathan's administration is bowing out with its international reputation at its lowest ebb because there is no effective salesman in charge of the Ministry of Foreign Affairs
Source: thesummary.com